Digital Voice Modem (audio filter and reference oscillator)
For Two-Way Ham Radio Applications
Model
INADVM Prototype Click here for schematic, parts list, construction, installation and set-up instructions.
The INADVM is an affordable, professional multi-mode digital
voice modem filter and reference board for use in amateur radio systems.
It's designed to be mounted onto a genuine Arduino DUE or clone.

The INADVM is intended to be an open-source Multi-Mode Digital Voice Modem,
which utilities the power of a ARM processor and a simple analog interface board.
The INA Digital Voice Modem is combined hardware and software, developed to handle all amateur digital voice modes.

This product is mostly thru-hole to allow assembly and repair by the common technician.

Designed by several hams.
---
Enlarged INADVM Prototype Top photo.
(Click for alternate view)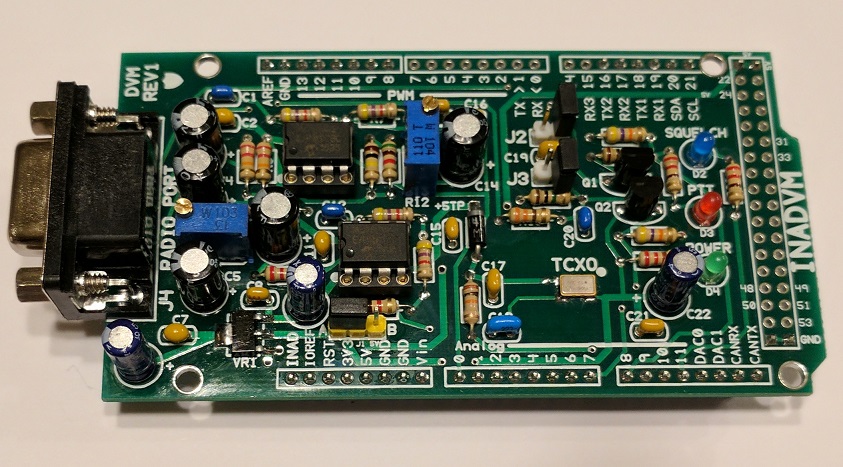 Description:
For several months now, a team of hams have been working on the development the INADVM. Mike N4IRR, Steve N4IRS and I have been working on a line of MMDVM (like) audio boards called INADVM. It is made and shipped from the USA. The first version of the board is for the Arduino Due. It uses multi-turn pots for receive and transmit audio. The radio connector is a DB9. A 12 MHz TCXO is included. On the board are LEDs for Power, PTT and Data detect.
Now for the fun part. The design is mostly through hole (not surface mount) except for the voltage regulator and the TCXO. Those two parts are premounted, and the rest is a kit. You will receive the PC board with the regulator and TCXO mounted and all the rest of the parts needed to complete it. The schematic and board layout for the prototype is available from the INADVM website. All ready to assemble. No surface mounted parts to solder. Quality machine sockets for the ICs. There will be an assembled and tested version available also.
We decided upon building a PC board that was mostly thru-hole instead of being like the other surface mount versions out there. This was done for several reasons, but mainly because the team saw other similar items be widely accepted because this form-factor is easier to build and modify by the average (ham) technician. There were about a dozen prototype INADVM's built and put through some rigorous beta testing. This original offering is referred to as the REV1 Prototype. The results of this testing is what prompted changes and additions to the REV 2 production model.
There are a few differences between the prototype and the production model. The major difference between them is the prototype does NOT have RSSI, and it has one silkscreen mistake. The silkscreen mistake placed the orientation dot for potentiometer R12 on the wrong end. It gets mostly covered over when the potentiometer is installed anyway, so it wasn't a huge mistake.
Click here for schematic, parts list, construction, installation and set-up instructions.
This product succeeded by revision two.
Product of INAD Communications, all rights reserved.
The INADVM hardware is under KI6ZUM CC license BY/SA/NC
Specifications may change without notice.
Designed by several hams.
Images are property of INAD Communications
Board layout by Kevin Custer W3KKC
HTML as of date below - All Rights Reserved!